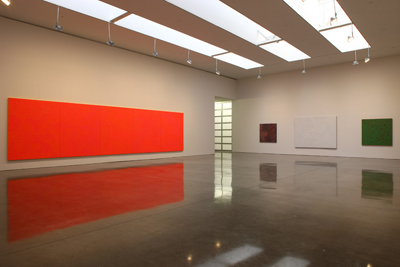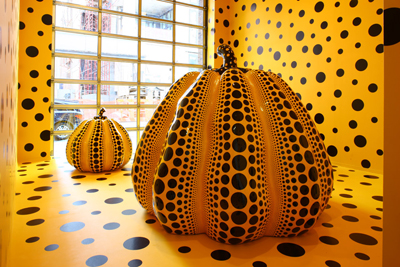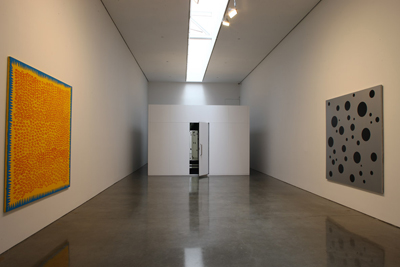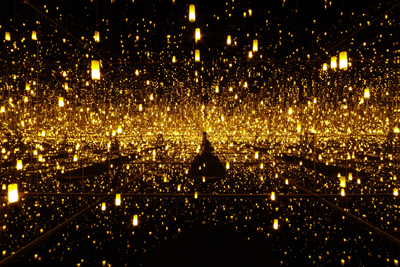 La
GAGOSIAN GALLERY
ha montado una impresionante exposición doble de
YAYOI KUSAMA
(Matsumoto, Japon, 1929) para celebrar su ochenta cumpleaños. Las sedes elegidas para esta retrospectiva son Los Ángeles y Chelsea (Nueva York).
Ya os hablé un poco de esta artista cuando visité su instalación "Aftermath of Obliteration of Eternity" en aquel
viaje infernal a Phoenix (AZ).
Ahora una obra similar de luces y espejos, ha viajado a Nueva York y forma parte de esta impresionante muestra junto con pinturas, esculturas, fotografías y otras instalaciones también espectaculares, ofreciendo una buena visión de su fascinante estilo psicodélico - minimalista.
Kusama empezó pintando enormes lienzos en los 50, en Nueva York, de una manera casi obsesiva; a veces se saltaba las comidas o las horas de sueño para poder seguir llenando estos lienzos con finas líneas. Todo esto sucedía antes de que la abstracción minimalista irrumpiera en el panorama newyorkino, "hablando" de conceptos como "espacios infinitos" o "psicosomatismo".
En una una fructífera e interesante carrera, Kusama ha realizado varias esculturas monumentales comisionadas por importantes instituciones tanto publicas como privadas: Fukuoka Municipal Museum of Art y el Matsumoto City Museum of Art en Japon; Eurolille en Lille (Francia); y mas recientemente el Beverly Hills City Council de Los Ángeles.
La exposición de Nueva York estará abierta hasta el próximo 27 de Junio.