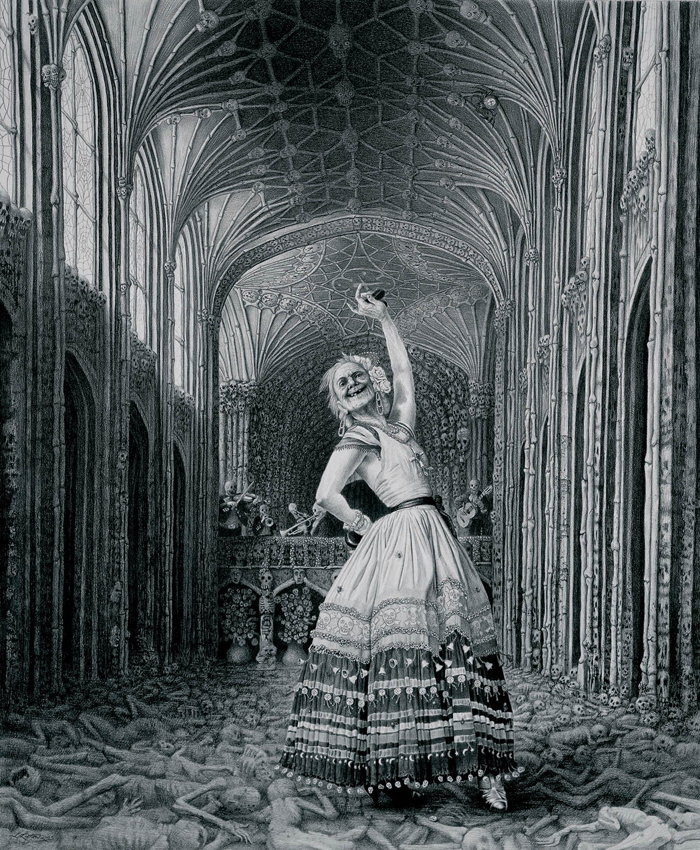 LAURIE LIPTON
es una inquietante artista nacida en Nueva York, que ya empezó a dibujar cuando tenia solo cuatro años. Fue la primera persona en graduarse en la Universidad Carnegie-Mellon de Pensilvania con la licenciatura de Bellas Artes, especialidad dibujo (cum laude!!). Ha vivido en diferentes países como Holanda, Francia, Bélgica, Alemania… pero en 1986 se estableció en Londres, donde todavía reside.
En su trabajo, ha desarrollado un estilo hiperrealista basado en las pinturas religiosas de la escuela flamenca, aprendiendo de forma autodidacta la técnica y el estilo de los maestros del XVII, a base de copiar durante horas a Durero, Memling y Van Eyck. Goya o Diane Arbus son otras de sus influencias.
Se le ha llamado la "dibujante tétrica" o " la artista del terror" entre otras joyas y es que su estilo es una mezcla de surrealismo, realismo, inocencia, terror… Sus imagines están protagonizadas por personajes monstruosos inmersos en mundos surrealistas de violencia, sexo y muerte. Y todo, realizado con una técnica impecable que solo usa tiza y lápiz sobre papel.
Esta incansable dibujante no para de hacer exposiciones por todo el mundo. Ahora mismo, colabora en la colectiva "In the Land of Retinal Delights: The Juxtapoz Factor"" En el
Laguna Art Museum de Laguna Beach (California)
, en la también colectiva "Hi Fructose. Group Art Exhibition" en
la Copronason Gallery
de Santa Mónica (Califronia).