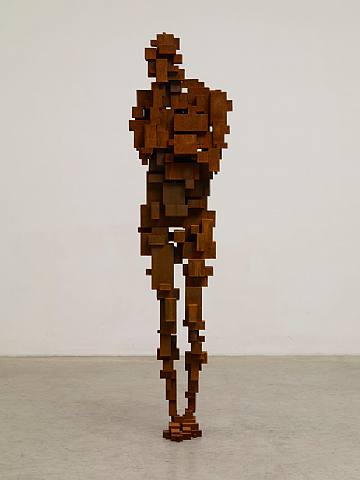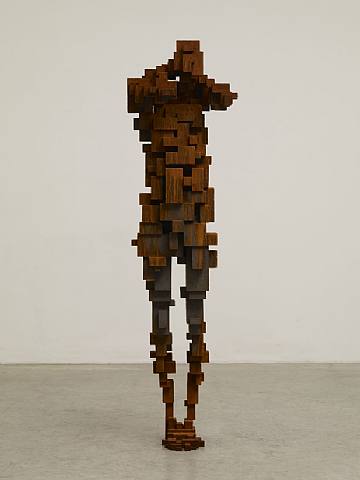 Si sucede que estáis estos días por Salzburgo (¿?), no dejéis de pasaros por la galería
THADDAEUS ROPAC
para ver la nueva obra de
ANTONY GORMLEY.
Bajo el nombre "Ataxia II", Gormely se adentra en terrenos casi médicos para retratar a base de ladrillos de hierro, estados de perdida de coordinación y control en el cuerpo humano. Obras como "Girar", "Agarrar" o "Perderse" narran fases o estadios correspondientes a diferentes patologías neuronales. Pero esta exposición va un paso mas allá de la propia medicina, y explora la idea de lo muy influenciados que nuestros cuerpos se hallan por fuerzas externas, ya sea a un nivel físico o psicológico.
ANTONY GORMLEY
(Londres 1950) estudió Historia del Arte y Arqueología en el Trinity College de Cambridge (1968-1971) y completó sus estudios en la Slade School of Fine Art y en el Goldsmiths College hasta 1979. Sus primeras investigaciones se centran en el problema de la relación entre el cuerpo y el espacio circundante. La figura humana, y muy frecuentemente su propio cuerpo, suelen constituir el punto de partida de su universo creador. Ha realizado proyectos de escultura pública como The Angel of the North (1998), en el exterior de Gateshead, o la cripta de la catedral de Winchester. Ha participado en la Biennale di Venezia, en la Documenta 8 de Kassel, etc. Su obra fue distinguida con el premio Turner en 1994.
Una muy interesante exposición que reúne dibujos, bocetos y otras piezas en papel, junto a las diferentes esculturas y que estará abierta hasta el próximo 23 de Mayo.